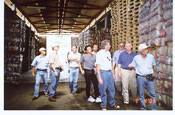 Pictured is a resource analysis mission for the Clorox Company. Tom Braham, owner of Hanover Brazil, with Kingsford and Plantar personnel at the Curvelo eucalyptus forests and production facilities of the Plantar Group in the state of Minas Gerais, Brazil.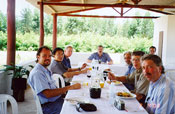 Hanover Brazil provides fee-based consulting services to clients requiring various types of information and project facilitation in Brazil. Based on our many years of experience in diverse sectors of Brazilian manufacturing and industry, we have access to a broad spectrum of contacts and sources. If your organization needs background information about a particular product or economic sector, or if you need to know how Brazilian import duties and laws may affect your project, we can create a report addressing your concerns. If your project requires hands-on facilitation, we have experience in providing liaison between U.S., European and other companies and Brazilian suppliers. We have provided market research and project management to companies such as the Clorox Company, Kingsford Charcoal, Ford Tractor, Arvin Meritor, the Caterpillar Corporation, and various others.
Hanover can provide industry research, project consulting, travel logistics, translation and meeting facilitation for comparable projects. Please contact us with details regarding your project requirements.