About Us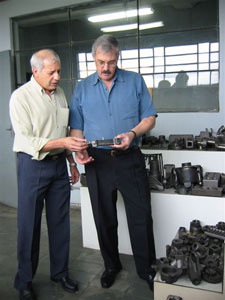 Hanover Brazil owners, Salvador Pezutto (left) and Tom Braham (right) inspecting a ductile iron casting at one of the high-quality foundries Hanover can call upon for world-class production. This part is one of many components developed with Hanover sources in Brazil, in this case destined for the Arvin Meritor Corporation, a tier-one automotive and trucking component supplier, and a loyal customer for 20 years.
Hanover Brazil has over 25 years of international trade experience. Owners Tom Braham of Hollywood, Florida, and Salvador Pezutto of São Paulo, Brazil, draw on decades of activity in import and export trade, manufacturing, consulting and liaison between Brazil and the rest of the world.
Salvador Pezutto spent two decades as a manager of industrial sourcing and manufacturing development in a career that saw him achieve the status of Purchasing Manager for Latin America with the Caterpillar Corporation. In addition, he has spent many years in the aviation and aerospace industries in Brazil. Salvador brought with him a wealth of manufacturing experience and knowledge of the Brazilian industrial environment when he joined forces with Hanover Brazil. Salvador is a lifelong "Paulista," or resident of the city of São Paulo, the location of our Brazilian operations and the undisputed capital of Brazilian business.
Tom Braham has lived and worked on three continents. His commitment to international life and business began with a Peace Corps stint in French-speaking Africa, in what is now the Democratic Republic of Congo, as a professor at the Université National du Zaire. Life in Africa was a rich and educational experience that offered Tom the opportunity, along with fulfilling his teaching duties, to launch his first international trade venture, by developing export sales for the work of Congolese artisans. Following three years in Africa, Tom returned to the U.S. and earned a Master of International Business degree from the respected international business program at the University of South Carolina. He worked for a period with Owens-Corning Fiberglass of Brazil in São Paulo, and then spent several years with the World Trade Center organization in South Florida before joining Hanover Marketing & Trade Corporation as Commercial Director. Within three years he purchased that company from the original owner and transformed it into the current Hanover Brazil organization along with Salvador Pezutto.
Tom is an American national and Salvador is a Brazilian national; they are both fluent in English and Portuguese. Tom also speaks French and Salvador speaks Spanish.